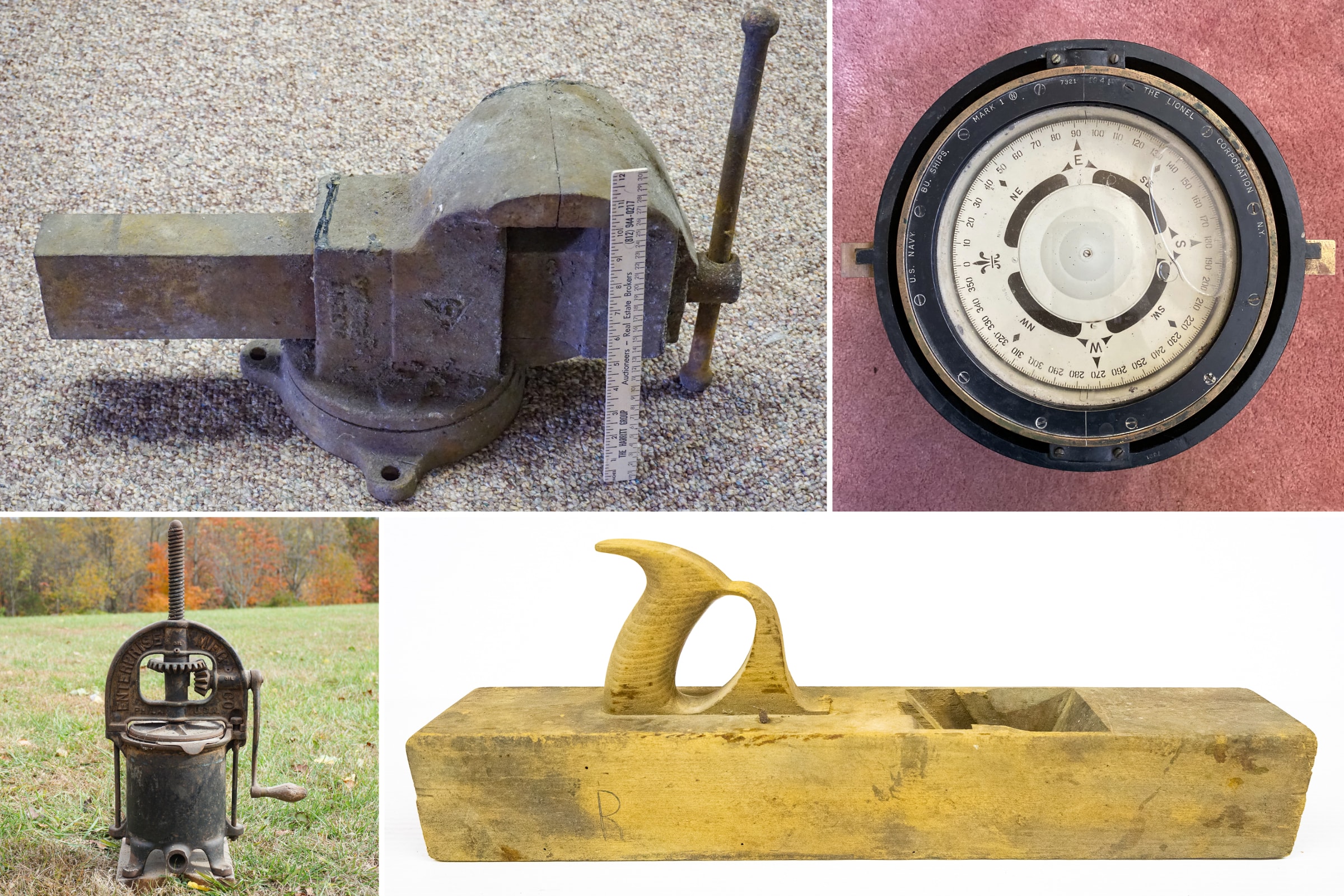 Fosskuhl Antique Tools & Contents Auction
10% Buyer's Premium added to the hammer bid price to determine the final purchase price.
Payment by cash, check or credit card.
Credit card accepted with a 3% convenience fee.
Payment by check may be subject to a 10-day bank clearance for out of state and buyers unknown to the auction company.
Selling live onsite for the Janet Fosskuhl Estate a collection of antique military items, antique tools including over 100 woodworking planes, hardware, and more. Also selling hunting and hobby accessories beginning at 3 PM. Come enjoy the day with us held under cover with plenty of parking, food, and drinks. Auction located in Floyd County off Starlight Road just 6.5 miles from Paoli Pike.
WWII US NAVY SHIP COMPASS
1941 US Navy B.U Ships compass, Mark 1 #7321, manufactured by the Lionel Corporation New York.
ANTIQUE TOOLS & COLLECTIBLES
(100+) woodworking planes and tools including Stanley No. 71 and 71 ½ router planes, Stanley No.45 combination plane, 1872 Stanley flexible plane, Stanley wood handle wrench, Stanley metal planes, Stanley wood planes, coopers barrel-making planes, spokeshave blades, molding planes, drawknives, and more, Hanson hanging scale, cast iron Enterprise lard press, ox yolk, fishnet, single and double trees, large Columbian Cleveland No. 900 vise, blacksmith vises, Ideal No.1 Stencil Machine from Belleview, IL, Fairbanks Morse Co. 300lb portable scale, antique embosograph machine, wood and steel pulleys, hay forks, knives and hooks, tractor seats, insect fogger, washboards, log roller and hooks ice tongues, large collection of saws, hatches and axes, bucksaw, micrometers, callipers, compasses, Stanley wood handle wrench, Red Chief corn sheller, (2) antique wooden car wheels, pipe cutters, pipe wrenches, wedges, hammerheads, drill bits, Collins brush axe head, sheep shears, augers, bean scales, Bluegrass wrenches, large Williams wrenches, Maytag wrench, Greenbriar Free Spirit bicycle, traps, Sears Cast Iron stove, meat cleaver, military map cabinet and more.
MODERN TOOLS & HARDWARE
Craftsman toolboxes, collection of Craftsman wrenches and tools, Craftsman electric 14" chop saw, Tool Shop Mini 2 gallon air compressor, gas cans, metal storage racks, stainless steel rolling cart, scrap metal, lumber, levels, pry bars, sockets sets, electric heaters, electric hedge trimmer, aluminum, and fiberglass extension ladders, cleaning chemicals, collection of misc hand, yard and power tools, cast iron wood stove, extension cords and more.
Highway 150 or Paoli Pike to Scottsville Road. North 3.8 miles to right on Starlight Road. Continue 2 miles to right on Foskuhl Road. Auction 0.6 miles on right. Or St. Marys Road to Banet Road to left on Foskuhl Road to auction on left.