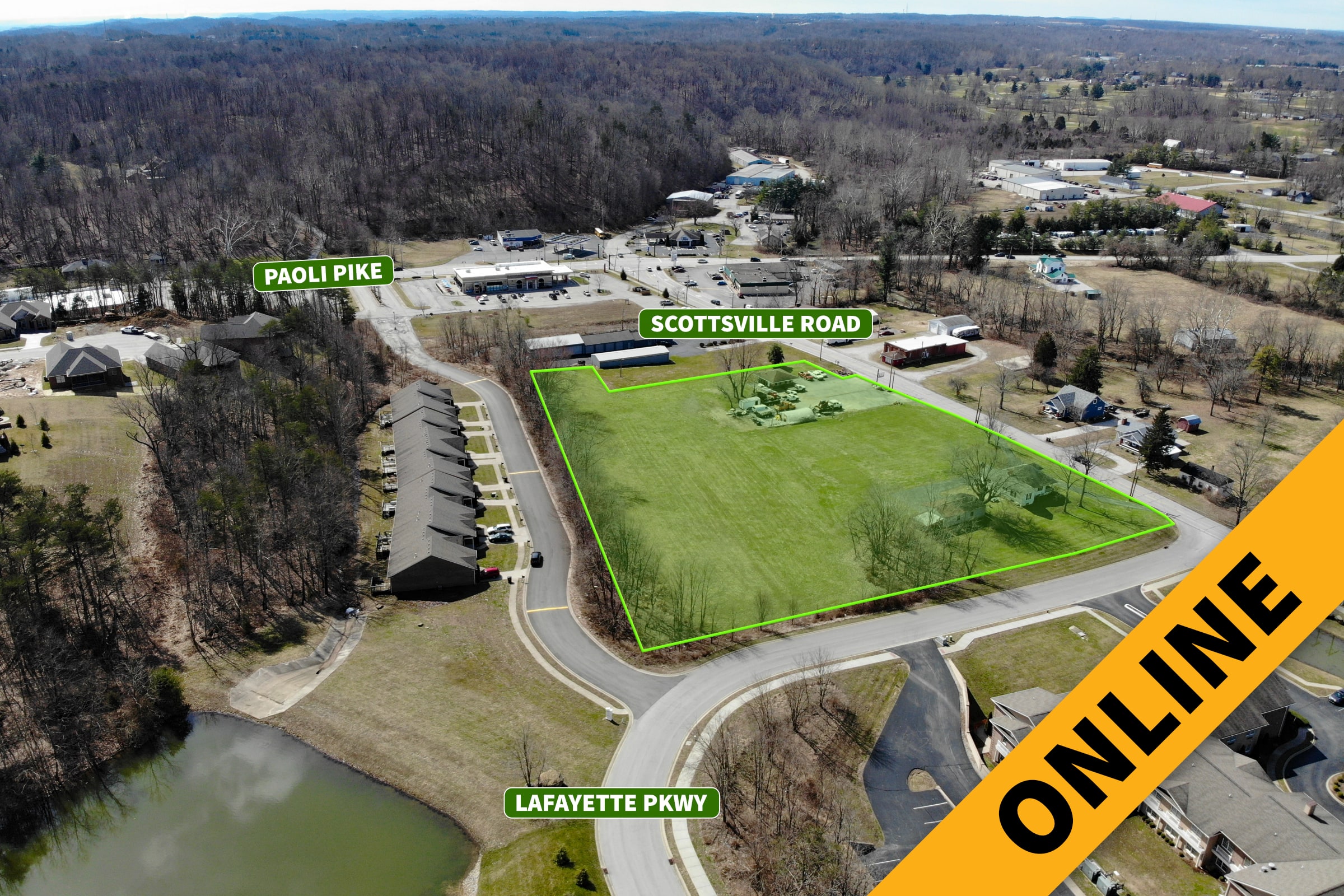 Prime 4-Acre Floyds Knobs Online Auction
ENDING DATE
2:00 pm *
Thursday, April 25th
10% Buyer's Premium added to the hammer bid price to determine the final purchase price.
10% Non-refundable down payment due within 24 hours following the auction, balance due in 40 days. Taxes prorated to day of closing. Possession at closing. Selling as is without contingencies, all inspections welcomed prior to the auction.
Personal Property Auction
Also selling at a live auction, the personal property of the Jane Naville Estate. The collection includes furniture, antiques, vintage items, collectibles, glassware, household items, stackable washer & dryer, electric scooter, and tools.
Selling online for the Jane Naville Estate, a prime 4.05-acre site located just north of Paoli Pike surrounded by commercial, retail and residential developments with easy access to I-64 and I-265. The property includes a 1072 square foot 2 bedroom bungalow, detached 3-car garage, and 576 square foot as-is commercial building previously the original Berry Twist. An exceptional opportunity with unlimited potential for future development.
REAL ESTATE
Prime 4.05 Acres
Zoned Neighborhood Commercial
Sewers, Natural Gas, Water & Electric Available
410 Feet Frontage on Scottsville Road
2 Bedroom Bungalow with Basement
Detached 3-Car Garage
Commercial Office Building
A rare opportunity to own a 4.05-acre site located in a high traffic area that has been the gateway to Floyds Knobs and commerce for over 100 years. Zoned NC Neighborhood Commercial, this naturally level site has 410 feet of frontage on Scottsville Road and is South of Lafayette Parkway and Azalea Hills Assisted Living and bordered on the East by the private Magnolia Lane. No road frontage on Lafayette Parkway or Magnolia Lane.
The property includes a 1072 square foot 2 bedroom – 1 bath aluminum siding bungalow with a covered porch, attic and full basement built in 1929, a detached 24' x 40' three-car garage, and a 24' x 24'  commercial building selling in as-is condition.
One of the few remaining commercial parcels in this area available for future development selling as a whole with all public utilities available at the street.
UTILITIES AVAILABLE
Floyds Knobs Water
Vectren Gas
Duke Energy
Deerwood Environmental Sewers

(Homeplace on septic – Office on sewers)
Real Estate Taxes & Exemptions
REAL ESTATE TAXES 2017/2018
Lafayette Township — $1,937.24
EXEMPTIONS
Homestead — $45,000
Homestead Supplement — $18,585
New Albany Floyd County Schools
Floyd Knobs Elementary
Highland Hills Middle
Floyd Central High
SELLER Jane K. Naville Estate
PERSONAL REPRESENTATIVE Janice A. Koetter
ATTORNEY George Gesenhues Jr.
To prevent bid sniping, last-minute bids will extend individual lots using our 'soft-close' functionality.
If a bid is placed in the last 10 minutes, the lot will remain open for an additional 10 minutes.
If any further bidding occurs, the extension timer will reset to 10 minutes.
If no further bidding occurs, the lot closes when the timer runs out.
I-265 State Street Exit #1. Northwest 2.2 miles on Paoli Pike to right on Scottsville Road. .02 mile to property on right. Or I-64 Highway 150 Exit#119. West 2.2 miles to right on Paoli Pike. 1.6 Miles to left on Scottsville Road to property on right.