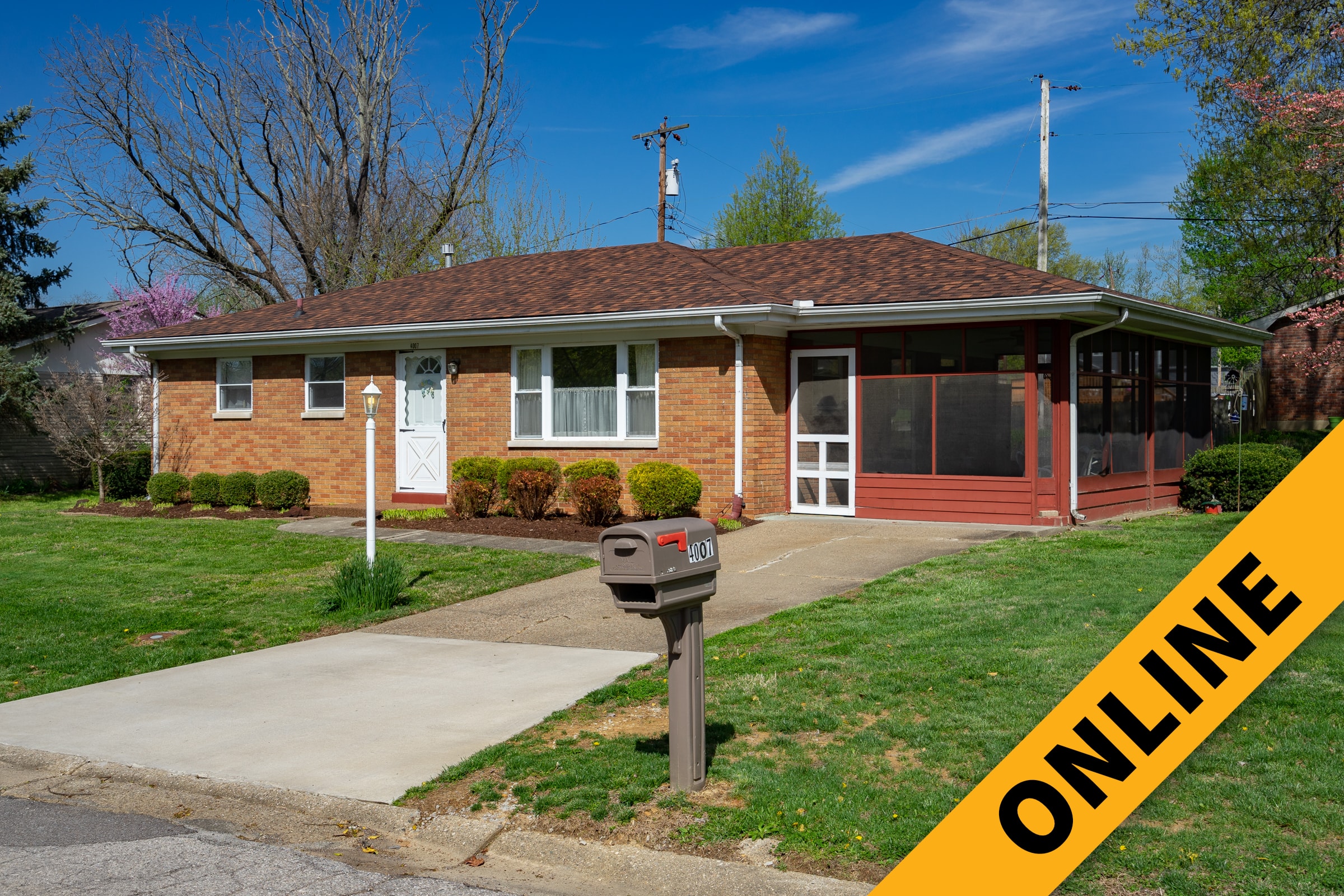 Tye Avenue Home & Contents Online Auction
ENDING DATE
*Staggered End & Extended Bidding
10% Buyer's Premium added to the hammer bid price to determine the final purchase price.
10% Non-refundable down payment in the form of cash, check or wired funds due within 24 hours following the auction, balance due in 40 days. Taxes prorated to day of closing. Possession at closing. Selling as is without contingencies, all inspections welcomed prior to the auction.
Payment by cash, check or *credit card.
Credit card with a 3% convenience fee.
Check may be subject to a 10-day bank clearance for out of state and buyers unknown to the auction company.
Shipping available at buyer's expense.
Contact Us with any concerns or questions.
Monday, May 13, 4-6pm
Monday, May 20, 11am-1pm
Contact us for an appointment
Selling online at auction the real estate and personal property of the late Joseph Jenkins including a charming one owner mid-century 988 square foot 3 bedroom brick ranch with full basement and screened carport on the corner of Tye Avenue and Lucy Drive off Klerner Lane near IUS. Personal property collection includes furniture, collectibles, and household contents.
REAL ESTATE
One Owner Home
Brick Ranch with Full Basement
988 Square Feet
3 Bedrooms, 1 Bath
10' x 23' Screened Carport
95' x 105' Corner Lot
Located off Klerner Lane Near IUS
Near shopping and restaurants with easy access to I-265, I-65, and I-64
A circa 1960 immaculate brick ranch with 988 square feet on the first floor, a full partially finished basement and a 10' x 23' screened carport on a 95' x 105' landscaped corner lot in a small established neighborhood in Floyd County. The first floor includes a living room, an equipped eat-in kitchen, 3 bedrooms, and 1 full bathroom. Additional space in the partially finished basement includes family room with concrete floors, furnace storage room, equipped laundry and workshop area. Home has gas heat, central air, replacement windows, hardwood floors under carpet, marble window sills,  and recently updated kitchen. A great opportunity for a homeowner or investor to own in a quaint neighborhood convenient to shopping and less than two miles from expressway.
Utilities
Vectren Gas
Duke Electric
Indiana American Water
New Albany Sewer
Real Estate Taxes & Exemptions
REAL ESTATE TAXES 2017/2018
New Albany Township (Annual) — $420.86
EXEMPTIONS
Homestead — $45,000
Homestead Supplement — $13,825
Schools
Grant Line Elementary
Scribner Middle
New Albany High
PERSONAL PROPERTY
SCOOTERS & MEDICAL EQUIPMENT
Golden four-wheel electric scooter, Go Go Elite Traveler three-wheel electric scooter, Solace by Invacare motorized hospital twin bed, assorted medical equipment including a walker, crutches, wheelchair and (2) toilet chairs.
FURNITURE
Round iron patio table with glass top and (4) cushion chairs, antique walnut drop leaf kitchen table with (2) cane bottom chairs, retro kitchen bar stool, 1940s mahogany oval dining table with (4) upholstered chairs, cherry full size four post bed with bedding, cherry six drawer chest, cherry four drawer dresser with hanging mirror, (2) matching 1970s nightstands, antique Singer console sewing machine, Magnavox Symphonette Model 262 radio-phonograph, 1960's Magnavox Astro Sonic console stereo, mid-century curved drop leaf coffee table with glass top, retro traditional three cushion sofa, upholstered wingback chair, retro console cabinet, Duncan Phyfe mahogany drum table, (2) vintage tiered end tables, (2) retro end tables, vintage kneehole desk, entertainment center, upholstered reclining chair, antique spindle back chair, antique painted dish safe, 1950s kitchen cabinet, 1940s painted three drawer chest, (4) retro vinyl chairs, vintage record cabinet, upholstered swivel chair, and a converted headboard console table.
ANTIQUES & COLLECTIBLES
Moroccan style swag lamp, mid-century modern Welby starburst wall clock, industrial Westinghouse mobile fan, industrial Kenmore desk fan, rolling record cabinet with an assortment of vintage records, retro Philco turntable and matching speakers, (4) retro suitcases, vintage Mahogany hanging wall shelf, retro baseball dartboard, retro picnic supplies, laundry hamper and basket, hanging "Date & Slate", Ronson Roto-Shine Magnetic shoe box, polisher and accessories, (2) rotary phones, wood yellow painted Pepsi crate, Acme brown leather mens cowboy boots, assorted collectibles including a painted enamel recipe box, enamel coffee cup, 7 Up bottle, Trunnell and Bar Record brush, bottle openers, ice pick, Herbert Hoover for President Pin, International Harvester Louisville Works anvil, mini Louisville Slugger bat, vintage Chevrolet car mirror, (2) Sears chrome flashlights and retro paperback books, assorted country antiques including a Dubl Handl Columbus Washboard Co washboard, sad iron, lantern and clothespins, collection of milk glass, Nobility Wing Song flatware, vintage kitchenware including Corningware and Pyrex, collection of clear pressed glass, Johnson Brothers china, Mikasa Fresh Floral Garden Club dinnerware, reproduction Hummel style figurines, (9) decorative bird figurines, large collection of decorative Capo De Monte style glass flowers, assorted cookware, large collection of vintage LP records, bookshelf and books, vintage linens, vintage Jules Jurgensen 25 jewels automatic wrist watch, assortment of costume jewelry, vintage oil cans, limited edition 2/2000 hand painted Hummel figurine by Goebel made in W. Germany, (1) hand painted Victorian era figurine made in Czechoslovakia and (2) ceramic angel figurines, (5) hand painted cups and saucers, (3) vintage furs including Yudofsky Louisville Furriers jacket, fox scarf and small fur wrap, holiday decor and Murano glass swan.
TOOLS & HOUSEHOLD
Assortment of tools and hardware, folding tables and chairs, brass floor & table lamps, (2) retro desk lamps including a student lamp with stenciled shade and electric globe lamp, Polaroid flat screen 40″ LED TV, RCA soundbar, decorative gold framed mirror, (4) framed European landscape photos and prints, Jim Oliver – "Eastern Bluebird" framed lithograph, framed floral prints, hanging plastic lyre and lute decorative art piece, Bissell upright vacuum cleaner, Costco two step 3′ stool, folding plastic TV tables, assorted jigsaw puzzles, folding lawn chairs, yard art, outdoor plastic storage bin, ladder and yard tools, plastic storage locker and contents.
—
SELLER Nancy Rapp and Donald Richards
Lots will end 30 seconds apart.
To prevent bid sniping, last-minute bids will extend individual lots using our 'soft-close' functionality.
If a bid is placed in the last 10 minutes, the lot will remain open for an additional 10 minutes.
If any further bidding occurs, the extension timer will reset to 10 minutes.
If no further bidding occurs, the lot closes when the timer runs out.
I-265 to Exit #3 IN-111 Grant Line Road. North 3/4 mile to right on Klerner Lane. Continue 4/10 mile and stay left on Klerner Lane for .1 mile to left on Tye Avenue. Auction on left at the corner of Tye Avenue and Lucy Drive.