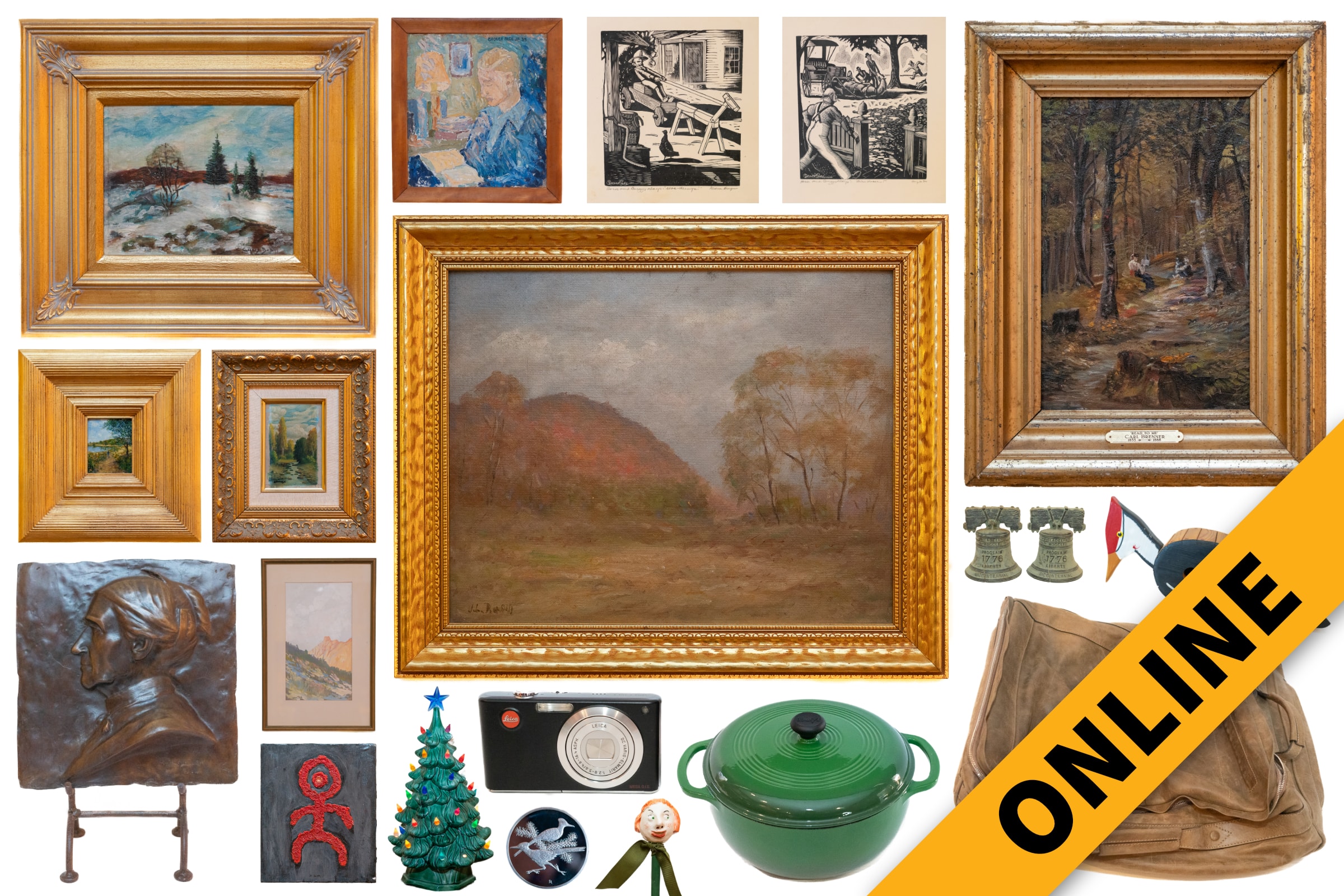 The Don & Kathy Smith Collection Online Auction
ENDING DATE
1:00 PM *
Tuesday, December 13
* Staggered End & Extended Bidding
10% Buyer's Premium added to the hammer bid price to determine the final purchase price.
Payment by Cash, Check or Credit Card in USD *
Credit card accepted with 3% convenience fee.
Payment by check may be subject to a 10-day bank clearance for out of state and buyers unknown to the auction company.
Shipping available at buyer's expense.
Contact Us for a Private Showing
Condition report not provided. Please view detailed photos closely as they are part of the description.
Wednesday, December 14, 11:00AM – 4:30PM
Thursday, December 15, 9:30AM – 4:30PM
Schedule pick-up by appointment only. Curbside pick-up will be available for most items. Buyers are responsible for packing, loading, and moving all items purchased without assistance from the Harritt Group. Bring your own help and equipment to load your items.
Selling online for Don & Kathy Russell Smith, longtime patrons of the arts and founders of The James L. Russell Wonderland Way Collection at IU Southeast. We are honored to offer at auction the contents of their home including art, furniture, antiques, decorative arts and more.
ART
A collection of Wonderland Way, Brown County, Regional & International artists including works by James L. Russell (grandfather of Kathy Russell Smith), James J. Russell (uncle of Kathy Russell Smith), Carl Brenner, Joseph Krementz, Paul Plaschke, C. Curry Bohm, Grover Page Sr., Grover Page Jr., Adolph R. Shulz, Ferdinand Graham Walker, Sidney D. "Sid" Crosier, Carl Lotick, Ron Elkins, Frederick W. Rigley, Viktor Petravich Ignatev, Clenna Perkins, G. Harry Allis, R.L. Selfridge, Robert Eberle, Bertieri, David Dale, Von Williamson, Rick Wilson, Dean Gumack, Mary Lou Hess, Gordon Fiscus, Jeannie Hilfiker, Paul Tucker, Dan Woodson, Swara, John Aebi, Carl Zimmerman, John P. Lasater, Jacob Pfeiffer, Will Vawter, T. G. Brown, Bill Borden, Robert James Foose, Jesse DeViney, Norene Mara, Joseph Langsdale Pickering, John Michael Carter, Charles E. Barnes, Martha A. Williams, Maureen O'Hara Pesta, Lois Davis, Al Hopkins, Jadick, DiMiro, Hundley Love Wells Coolman, Randall Scott Harden, Haruss, David Callistus Smith, Kimberly Dawn Handy, Judith Leiviska, C. Winston Haberer, H. Swanson, Raymond Totoczko, Mary Shore, Norman Kohlhepp and Dale Bratcher, a Don Gilbert print, J.S. Alberts print, Paul Klee reproduction prints, Richard Schmid print, Paul Sawyier print, David Kocka bronze bust of artist Sid Crosier's mother, black & white photo of Sid Crosier, 68 boxes of J.L. Russell commemorative note cards, New Albany river boat prints by James J. Russell, George Hancock, Robert Applegate, George Engle, Jonas Howard and Robert Applegate Jr, New Albany potpourri prints by Mary Lou Hess, John Howard, Virginia Biggerstaff, Robert Applegate, George Engle and James J. Russell, Bertha Jaques Venice etching, Cavallins twin spire church steeple, Grover Page Sr. woodcut prints and Courier Journal political cartoons.
FURNITURE
Mahogany 16-pane corner cupboard, mahogany inlaid dining table & 6 chairs, antique petite Biedermeier style cherry armoire, (2) antique Victorian marble top washstands with mirrors, several Victorian walnut needlepoint side chairs, French Provincial caned arm chair, wingback armchairs by Best Chairs, cherry console table, antique cherry one drawer stand table, European petite gateleg drop leaf table, antique walnut swivel top game table, cherry 40" plant stand, scallop console table, antique caned Lincoln rocker, 1930's walnut cedar chest, antique Victorian walnut marble top dresser with mirror, Ridgeway granddaughter clock, 1940's four post bed & bedding, Pennsylvania House cherry writing desk, Hollywood bed frame & bedding, oak windsor style rocking chair, mahogany spindle back reading chair, walnut cane bottom chair, mahogany claw & ball foot coffee table, traditional upholstered sofa, Duncan Phyfe mahogany drum table (as-is), Thomasville 4-piece French Provincial armoires & vanity, 7-drawer lingerie chest by Hickory, Thomasville French Provincial full size bed frame & night stand, Hickory Tavern upholstered armchairs, Gilliam French Provincial wingback armchair, Gilliam upholstered loveseat, Thomasville hexagon credenza end table, petite mahogany Federal style chest, whimsical decorated console table, Asian red accent cabinet, cherry lamp table, folk art mirrored corner wall cabinet, industrial stand table, contemporary walnut desk, leather office chair, Thomasville end tables, Karpen windsor style armchair, antique four post twin spool bed, Norwalk upholstered armchair, eccentric wingback armchair, Thonet bentwood rocking chair, demi-lune painted and decorated console table, octagon oak game table & (4) upholstered chairs, painted console table, Lane cherry cedar chest, upholstered traditional loveseat, mahogany spiral library step shelf, 3-section shelf unit and an inlay folding card table.
ANTIQUES & COLLECTIBLES
Antique art glass table lamp, Weller art pottery basket, Bruce Fox New Albany Sesquicentennial bookends & ashtray, Bruce Fox charging bull steak platters and a pair of charging bull steak knives, Bruce Fox philodendron leaf dish, Fontaine Ferry china dog head & figural head carnival canes, duck & eagle brass handle canes, folk art & whimsical walking sticks, tree limb and other canes, blown glass paperweights, 1885 Stanley London brass telescope, Lemaire Paris opera glasses, a duck collection including Gavia Immer carved duck decoy, antique walnut lap desk, Smith Rd street sign, cast bronze pear sculpture, art nouveau cast metal vase, cast iron Liberty Bell Bicentennial bookends, art nouveau ornate vanity mirror, brass baroque oval mirror vanity tray, art nouveau Old Man North brass mirror, James J. Russell Bellarmine College silver plate julep cups, antique inkwells and folding lap desk, spectacles, keepsake & music boxes, Landers Frary & Clark 5-piece silver plate coffee tea set, Bushnell, Orvis, Gemini & Paris binoculars, antique brass oil lamp, Louisville Stoneware & M.A. Hadley dishes, (7) pocket knives including Abercrombie & Fitch fly fishing pocket knife, Craftsman and Victorinox, 1925-1990 Hoosier Salon book, leather bound books, Laszio Ispanky bust of David, (3) quilts, OLPH, Providence, Floyd Central & New Albany High School yearbooks, Meerschaum tobacco pipes, 1886 leather body doll, antique wool buggy blanket, Tony Akers Borden Indiana basket, oval antique frames with George & Martha Washington etchings, antique walnut round tray & round oak mirror, collection of antique & vintage art frames and more.
ANTIQUE CLOCKS
Junghans German wall regulator clock, (2) Seth Thomas mantle clocks, Waltham steeple mantle clock, Sessions Sudbury camelback mantle clock and several small quartz desk clocks including Waterford, Braun, Timeworks & Lenox.
JEWELRY, SILVER & GOLD
Sterling silver flatware & serving utensils, sterling silver Franklin Mint roadrunner coin, mens 18K gold gemstone ring, vintage costume and Southwest jewelry.
GLASSWARE & CHINA
Large collection of cut & crystal glassware, Bavaria painted pitcher & French mugs, Nippon, Haviland, Tiffany & French hand painted china, Gorham shell platter, Jardin Genevieve dinnerware, Noritake Berenda dinnerware, Fraureuth dinnerware, Haviland France serving platter, large collection of drinking glasses and more.
HOME DECOR
Selection of eleven (11) oriental area rugs and runners including Khazai & Cairo and two frog & honey bee rugs, large collection of decorative lamps including a pair of Asian ginger jar table lamps, brass student lamp, porcelain Asian lamps, tole painted metal student lamp, brass candlestick lamp and several others, large collection of artificial flower arrangements and greenery, large collection of rabbit and rooster decor, folk art "Pepe Santiago" Mexican lizard figurine, several sets of bookends including cast metal hummingbirds, cast metal bull & horse, Cristal D'Arques France lead crystal, agate rock, The Doors to the Library of Congress and others, bronze cast whitetail deer hoof print, cast metal decorative figurines, Southwest art pottery & horse statue, brass candlesticks, Sander & Garden metal sculptures, Arte Italica ceramic painted tray & tankard, pantry boxes, several decorative dishes, decorative & accent pillows, ornate brass table easels, Pilgrim glass fish, Steuben glass dolphin, West Highland Terrier decor, picture frames, St. Cecilia plaque, brass & crystal chandelier and more.
CHRISTMAS DECOR
Danbury Mint lighted Westie Christmas tree & sleigh, (2) ceramic lighted Christmas trees, needlepoint & woven pillows, 9' pre-lit pencil Christmas tree and shelves of Christmas decor including stockings, nativity set, ornaments, wrapping paper, pre-made tree ribbons and more.
APPAREL & ACCESSORIES
Brahmin ladies handbag & wallet, Piel leather wheeled carry on bag, Wilsons leather garment & duffle bag, Brunello Cucinelli leather rolling carry on bag & weekender bag, Hartmann leather briefcase, suspenders, purses, Turnbury mens 44R wool overcoat, Luciano Barbera mens XL cashmere overcoat, and ladies lace skirt, top and jacket.
OUTDOOR & GARDEN
Custom heavy duty copper four chamber bird feeder with branch like perches, Martha Stewart cast aluminum patio table & (8) chairs, (3) aluminum outdoor park benches, aluminum round patio table & (4) chairs, wrought iron wall basket, wrought iron end tables, Brown Jordan wrought iron end table, set of 4 white chippendale square planters, self contained garden pottery fountain, St. Francis 3' garden statue, carved figural limestone woman & base, bunny garden decor, aluminum armchair, woodpecker birdhouse, galvanized wash tubs, animal & mole traps, ribbon lawn chairs, Weber gas grill & cover, Shakespeare Wonderod SP940 & Heddon Golden Mark 50 fly fishing rods, camping & fishing supplies, golf bag & covers (never used) and more.
CAMERAS, ELECTRONICS & APPLIANCES
Maytag Oversize Capacity Plus washer & dryer, Whirlpool 2020 side by side stainless steel refrigerator, Samsung electric flat top range, Whirlpool slide in stainless steel dishwasher, Frigidaire single door refrigerator, Kelvinator upright freezer, Leica C-LUX-2 digital camera, Olympus, Minolta & Cannon digital cameras and a Kodak carousel slide projector, Texas Instruments 700 data terminal, Apple Extended keyboard II, JVC & Technics players & tuners, Bose speakers, Proscan flat screen TV and others.
HOUSEHOLD
Large collection of blankets including (2) Scots Glen lambswool blankets, bedding sets, bath towels, Boker stainless steel & bakelite carving set, Wilton aluminum serving platter, cantilever clamping desk lamp, coffee table books, Varages France dishes, glassware, prints, Nantucket Basket brass door knocker, folding aluminum cot, air mattress, plastic storage totes, PaceMaster Pro-Plus treadmill, dominos & game boards, folding card tables & chairs, large collection of small kitchen appliances, Wusthof, Case XX, Stainless Hollow Ground & Chicago Cutlery knives, Lodge green cast iron dutch oven, All Clad & Calphalon skillets,Rabbit wine tool kit, silverplate & stainless steel flatware, colorful summertime kitchenware and kitchen accessories, roasting pans, baking dishes and more.
TOOLS & HARDWARE
Stihl straight & curved shaft gas trimmers, Stihl chainsaw, Remington chainsaw, Black & Decker Hedge Hog trimmer, Mantis mini gas tillers, Milwaukee heavy duty hand truck, Craftsman toolbox & contents, Belknap Bluegrass axes & pickaxe, aluminum extension ladders, gardening supplies & tools, collection of yard & hand tools, ladder, pole saws, shovels and more.
I-64 to Greenville Hwy. 150 Exit 119. West 2.7 miles to right on Paoli Pike. 6/10 mile to right on Sylvan Drive. Stay left onto Sylvan Court. Auction on left.
We know that the end of an online auction can be a hectic place. Here are some tips & things you should know to help make it a little easier…
Lots will end 30 seconds apart.
To prevent bid sniping, last-minute bids will extend individual lots using our 'soft-close' functionality.
If a bid is placed in the last 10 minutes, the lot will remain open for an additional 10 minutes.
If any further bidding occurs, the extension timer will reset to 10 minutes.
If no further bidding occurs, the lot closes when the timer runs out.
Place your max bid and let the system bid for you. In the event two bidders have placed identical max bids, the first bid received will be the successful bid.
You can "watch" lots for an easier way to keep track of items you're interested in.